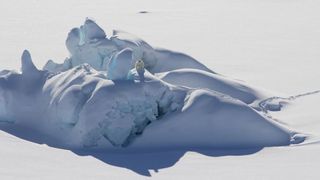 Topics: Climate Change, Existentialism, Global Warming
The "Last Ice Area," an Arctic region known for its thick ice cover, may be more vulnerable to climate change than scientists suspected, a new study has found.
This frozen zone, which lies to the north of Greenland, earned its dramatic name because even though its ice grows and shrinks seasonally, much of the sea ice here was thought to be thick enough to persist through summer's warmth.
But during the summer of 2020, the Wandel Sea in the eastern part of the Last Ice Area lost 50% of its overlying ice, bringing coverage there to its lowest since record-keeping began. In the new study, researchers found that weather conditions were driving the decline, but climate change made that possible by gradually thinning the area's long-standing ice year after year. This hints that global warming may threaten the region more than prior climate models suggested.
'Last Ice Area' in the Arctic may not survive climate change, Mindy Weisberger, a senior writer for Live Science