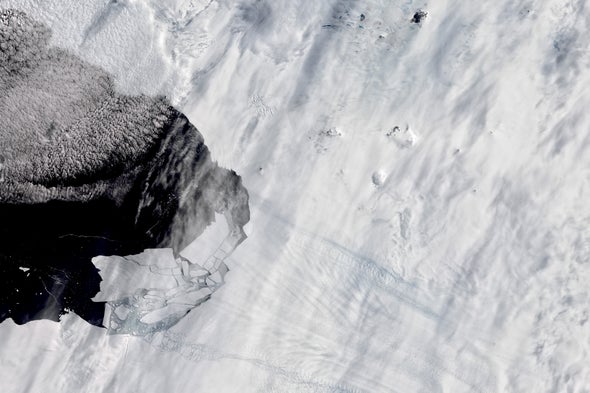 Topics: Climate Change, Existentialism, Global Warming
Antarctica's monster Pine Island Glacier—one of the fastest melting glaciers on the continent—is giving climate scientists new reasons to worry.
The trouble has to do with its ice shelf, a frozen ledge at the edge of the Pine Island Glacier. The ice shelf helps stabilize and contain the vast flow of ice behind it.
But now it's crumbling into pieces.
In the last five years alone, more than a fifth of the ice shelf has broken away in the form of gigantic icebergs, which fall into the ocean and drift away.
At the same time, the glacier has begun losing ice at a faster rate. Since 2017, the speed of the ice flowing from the glacier into the sea has accelerated by 12%.
These losses are summarized in a new study, published Friday in the journal Science Advances.
The big question is what will happen next, according to lead study author Ian Joughin, a glaciologist at the University of Washington. There's a chance the ice shelf may stabilize and the flow of ice will slow down, or at least stop speeding up.
Then again, "the other scenario is this process will continue and the shelf will fall apart far more quickly than we expected," he told E&E News.
Giant Ice Shelf Crumbling Faster than Expected, Chelsea Harvey, Scientific American